Douglas DC-3/C-47 transports use in RAAF/ADAT service during 1939-46 - Part 4 - 36 Squadron
---
by Steve Mackenzie
A65-48 RE-W VHCID. Typical 36 Sqn airframe. Note how the original Olive Drab upper surfaces are heavily faded and there is much repainting with fresher Foliage Green on the rear fuselage and tail.
I intend to run a series of articles looking at the Douglas DC-3/C-47 transports use in RAAF/ADAT service during 1939-46. After some thought I have decided the best way to approach such a large subject is to look at each user unit in turn (in numerical order to simplify things) with images of some of their airframes. No profiles as that involves a lot of extra work for an airframe type that I will later probably have no more use for.
36 Squadron was formed at Laverton, in Victoria on 11 March 1942. It was placed under the operational control of Air Transport Command which was formed on 14 July 1942 and moved to Essendon airfield in Melbourne, Victoria on 17 July 1942. By this time 36 Squadron had increased its fleet to six DC-2s, two DH-84s, one DH-86, one Beechcraft and one Tiger Moth. After moving to Townsville in December 1942, the Squadron's non DC-2 aircraft were gradually replaced with the ubiquitous DC-3 (these being impressed civil airframes designated C-50s). Freight was continually flown to New Guinea and the first of several aircraft detachments to that combat zone commenced in 1943. These aircraft conveyed troops and freight to the forward bases, flying supply drops over difficult terrain in treacherous weather conditions.
On 1 June 1943 a detachment from 36 Squadron began operating from New Guinea, carrying out general transport flights. The Sqn started to receive C-47s in Feb 1943, the initial three actually being serialled A30-15 to 17 (following on from the DC-2 serials (later changed quickly to A65-1 to 3). Later in June 1943, "B" Flight (flying the DC-2s) was relocated to RAAF Richmond for general training and to provide airframes for the Parachute Training Flight at Richmond. (the DC-2s and C-50s fall outside the scope of this article, they may be covered at the end of the series).
On 20 February 1944, 36 Squadron moved to Garbutt airfield , later that year detachments at Richmond and New Guinea were disbanded. after the Directorate of Air Transport was disbanded, RAAF Headquarters assumed operational control of RAAF Air Transport groups. At this same time the aircraft on loan from the USAAF were returned leaving a Squadron establishment of 12 Dakotas. After the Japanese surrender No 36 Squadron was heavily involved in repatriation flights to bring POWs back to Australia. Later a detachment based at Morotai began courier runs to Japan in support of the Australian component of the British Commonwealth Occupation Force.
36 Sqn marked their airframes in a very standard way right from the beginning with RE-x codes in Sky Blue on camouflaged airframes or Black on Nat Metal airframes. Serials were in the usual Light Grey on the rear fuselage (Black on Nat Metal). The 'VHxxx' radio call signs were applied in their usual position above the fin flash (or sometimes on the rudder). They could be variously in Light Grey, White, Black (on Nat Metal airframes) or even Sky Blue. They could also be with or without a dash after the 'VH' (in theory there should be no dash, but there were many, many exceptions as we will eventually see thru this series).
A65-4 RE-D 'The Arunta'
A65-1 VH-CTA RE-D 36 Sqn at Garbutt. Individual names on RAAF C-47s were very rare, although 36 Sqn is known to have had at least three. One was A65-4 which carried the name 'The Arunta' (the photo above is before it was applied). Other known examples were A65-5 'Miss America', A65-8 'Slow Poke' and A65-9 'Peel City'.

A65-1 VHCTA RE-D The Arunta.
A65-1 VHCTA RE-D 36 Sqn AWM Photo 094921.
A65-1 VHCTA RE-D 36 Sqn AWM Photo 098413 Rabual, New Britian. 1945-10-30. Mail being loaded aboard.
A65-1 VHCTA RE-D.
A65-1 VHCTA RE-D 36 Sqn. Closeup of name 'The Arunta'.
A65-8 VHCTH RE-J 36 Sqn nicknamed 'Slow Poke', Townsville, Qld. AWM Photo NEA0083.

The majority of photos show their aircraft in standard markings as listed above so I have just put the photos into a table below for simplicity.

A65-3 VHCTC RE-F 36 Sqn.
A65-4 VHCTD RE-G 36 Sqn Mareeba, Qld, 1944-09-28.
A65-4 VHCTD RE-G 36 Sqn Cloncurry, Qld, 1945-04-02. AWM Photo 088098.
A65-5 VHCTE RE-H 36 Sqn Garbutt.
A65-5 VHCTE RE-H 36 Sqn.
A65-5 VHCTE RE-H 36 Sqn.
A65-5 VHCTE RE-H 36 Sqn.
A65-7 VHCTG RE-B 36 Sqn.
A65-8 VHCTH RE-J 36 Sqn nicknamed 'Slow Poke', Townsville, Qld. AWM Photo NEA0083.
A65-8 VHCTH RE-J 36 Sqn nicknamed 'Slow Poke', Townsville, Qld. AWM Photo NEA0087.
A65-8 VHCTH RE-J 36 Sqn Mareeba, Qld, 1944-09-30. AWM Photo 080975.
A65-8 VHCTH RE-J 36 Sqn see caption.
A65-23 VHCTB RE-M 36 Sqn Garbutt, c.1944 AHMWA Photo P026053.
A65-40 VHCUM RE-A 36 Sqn.
A65-48 VHCID RE-W 36 Sqn. Casualties were flown in RAAF Transport aircraft from forward hospitals to rear base areas. AWM Photo OG3341.
A65-55 VHCUQ RE-S 36 Sqn Orokina, Bouganville, Solomon Islands. 1945-03-12. AWM Photo 079715.
A65-55 VHCUQ RE-S 36 Sqn Dakotas at Garbutt Townsville 1945.
A65-63 VHCKN RE-U 36 Sqn.
A65-103 VHRFT RE-P 36 Sqn.
A65-114 VHRGB RE-E 36 Sqn.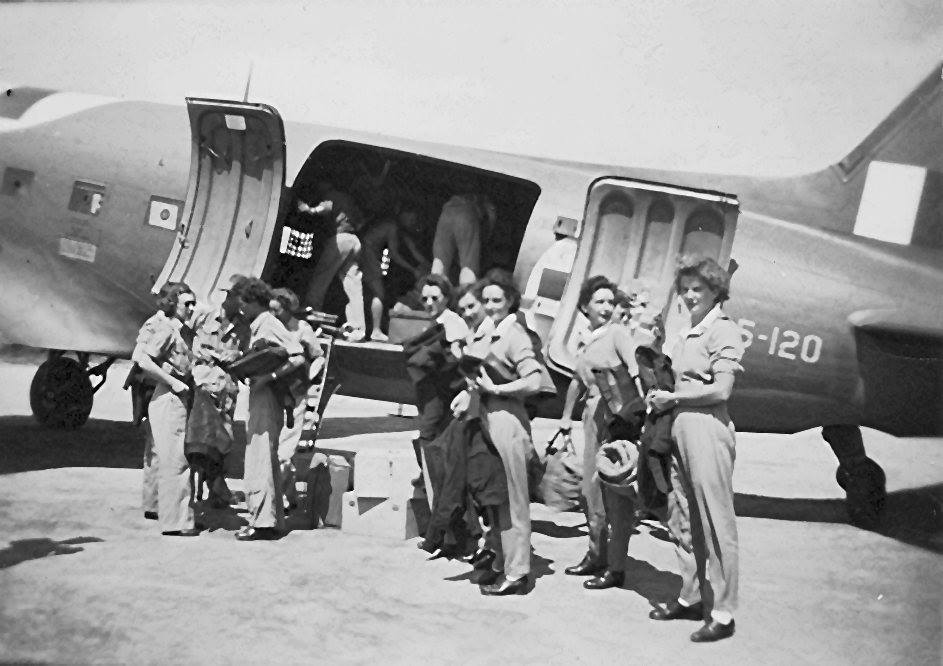 The last few C-47s operated by the RAAF were outfitted as specialist Ambulance airframes and at least two of them (A65-118 and 120) were with 36 Sqn (above photo: A65-120 VHRGH Air Ambulance). No doubt by the war's end they would have had some airframes in Nat Metal like the other units but photos are rare, the only one that I have identified to a serial is A65-5 VHCTE RE-H below. Postwar all airframes were in Nat Metal with the 'last 2' of the radio call signs on the nose in Black, B/W roundels being carried for the first 2-3 years. The unit was never disbanded, operating C-47s, then C-130 Hercules for many years and now C-17s.
.

A65-118 Air Ambulance. Because of lack of space the Ambulances did not carry Sqn codes.
A65-5 VHCTE 36 Sqn RE-H at Darwin late 1945 returning POWs to Australia. AHMWA Photo 094921.
A65-120 VH-RGH 36 Squadron Darwin c.1947 This is the same airframe as the canouflaged Air Ambulance above.
A65-121 VHRGI RE-R 36 Sqn. Photo P1789-0196 via John Hopton collection, also Dick Hourigan sent a copy many years ago.
A65-40 VHCUM. This machine had been RE-A with 36 Sqn during the war, but this image may show it with Darwin Base SHQ Flight after 15/4/46.

Use the index button to return to the main issue 35/3 index.