Douglas DC-3/C-47 transports use in RAAF/ADAT service during 1939-46 - Part 5 - 37 Squadron
---
by Steve Mackenzie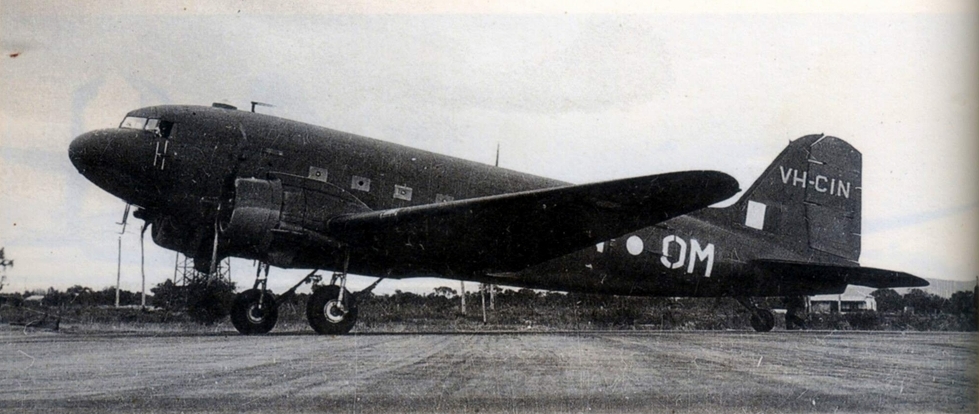 A65-71 VH-CIN OM-N 37 Sqn used to transport the coffin of ex PM John Curtin to Perth in July 1945.
I intend to run a series of articles looking at the Douglas DC-3/C-47 transports use in RAAF/ADAT service during 1939-46. After some thought I have decided the best way to approach such a large subject is to look at each user unit in turn (in numerical order to simplify things) with images of some of their airframes. No profiles as that involves a lot of extra work for an airframe type that I will later probably have no more use for.
The squadron was formed at RAAF Station Laverton, Victoria, on 15 July 1943, the first aircraft, a single-engined Northrop Delta formerly of No. 34 Squadron, was delivered on 2 August. The squadron was allocated the first of a batch of ten twin-engined Lockheed C-60 Lodestar transports on 23 August (A67-5), it equipped with 10 Lockheed C-60 Lodestars plus five further Dutch airframes were attached for operational purposes (see issues 19/1, 19/4 and also last issue 35/3 for their history), which were operated in Australia, New Guinea and the Dutch East Indies.
No. 37 Squadron received its first three Douglas C-47 Dakotas in February 1945, a total of 12 airframes were allocated to support operations in Australia, Dutch New Guinea and Dutch East Indies. The next month it began operating detachments out of Parafield, South Australia, and Morotai in the Dutch East Indies. On 6 July 1945, one of the squadron's Dakotas transported the body of Prime Minister John Curtin from Canberra to Perth for burial (OM-N A65-71 see photos). Following the end of hostilities, No. 37 Squadron repatriated former prisoners of war from Singapore to Australia. The unit was disbanded at Schofields on 24 February 1948. It later rose from the ashes to be re-equipped with C-130 Hercules for many decades.
37 Sqn marked their airframes with OM-x codes in Sky Blue on camouflaged airframes or Black on Nat Metal airframes. Serials were in the usual Light Grey on the rear fuselage (Black on Nat Metal). The 'VHxxx' radio call signs were applied in their usual position above the fin flash (or sometimes on the rudder). They could be variously in Light Grey, White, Black (on Nat Metal airframes) or even Sky Blue. They could also be with or without a dash after the 'VH' (in theory there should be no dash, but there were many, many exceptions as we will eventually see thru this series).
.

A65-71, VH-CIN Douglas C-47 Dakota aircraft AWM Photo P01378.003
A65-71, VH-CIN Douglas C-47 Dakota aircraft AWM Photo P01378.004
A65-71, VH-CIN Douglas C-47 Dakota aircraft AWM Photo 3945373
A65-71, VH-CINwith RAAF 37 Squadron code OM-N
Both DK Decals and Southern Sky (formulated by Steve Evans, later Ronin Decals) have done 1/72 decals sets for A65-71. The DK Decals would be easier to obtain (the old Southern Sky stuff being long gone). The DK set is more accurate anyway, the SS sheet seems to be based on the restored airframe in these markings which has slight differences.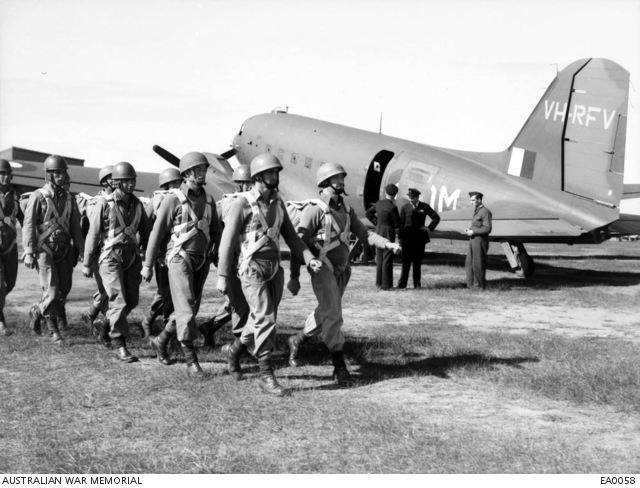 A65-105 VH-RFV OM-V 37 Sqn, the aircraft is on detachment from 37 Transport Squadron RAAF for training of Australian Paratroops. Photo AWM EA0058.

Trainee paratroopers at the RAAF Paratroop Training Unit board Douglas C-47b Dakota aircraft A65-105 VH-RFV OM-V of 37 Sqn to perform their third descent. Photos AWM EA0056 & 57.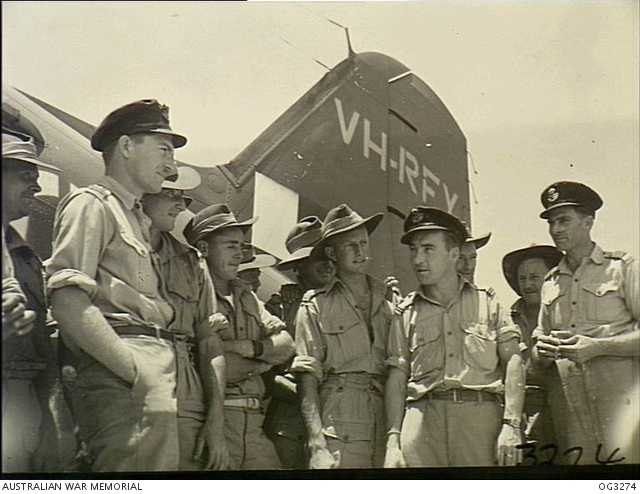 A65-111 VHRVY Coded OM-Y . Labuan, North Borneo 1945-08-27. Australian Paratroops at Labuan after a 4500 mile journey Auatralia waiting to go to Singapore with the occupation forces. Photo AWM OG3274.

More of A65-111 and the Paratroops on their way to Singapore. Photos AWM OG3275 & 114713.

Due to the Sqn's late re-equipment with C-47s there are very few photos of their wartime airframes. The only other three that I have in my 37 Sqn sub-folder are below.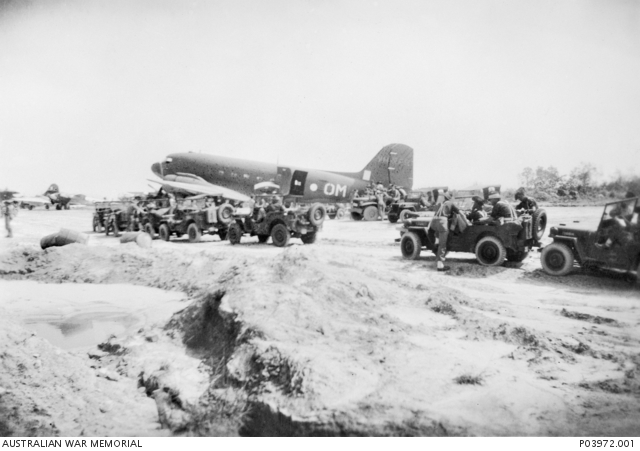 A line of quarter ton trucks (jeeps) lined up in front of an Australian Douglas Dakota (C-47 DC-3) transport aircraft from No 37 Squadron RAAF on Labuan Island June 1945. AWM Photo P03972.001
Singapore 1945-10-06. After their release from a Bangkock prison camp, Australian POWs arrive on a 37 Sqn Dakota. Photo AWM OG3574.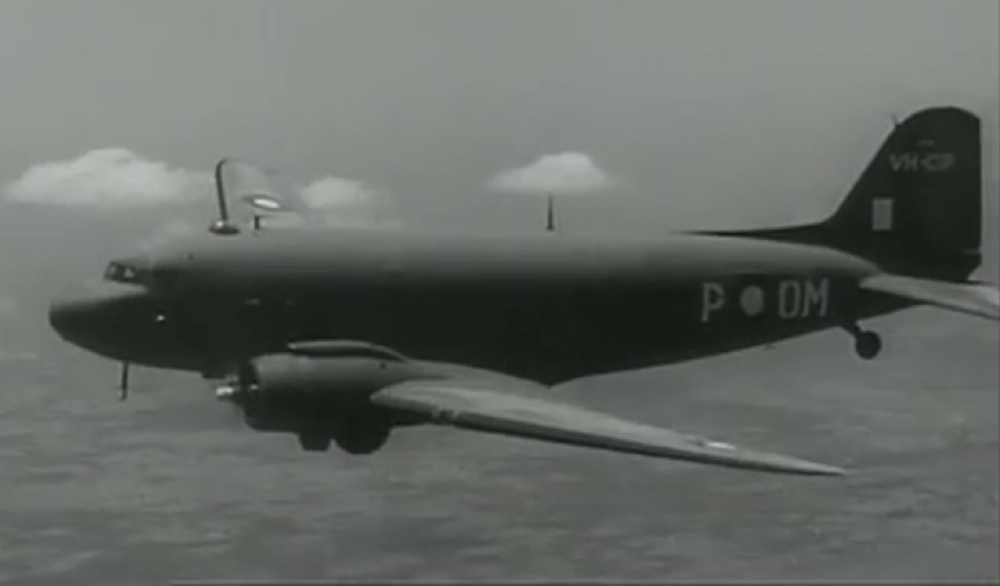 Snapshot of A65-73, VH-CIP, OM-P from the 1946 film 'The Overlanders'. A real 37 Sqn airframe acting as a Film Star. Image from internet.
Use the index button to return to the main issue 35/4 index.