Vampire A79-1 'PGO' from 2(F)OTU
---
by Steve Mackenzie
A79-1 Wing Cmdr Peter Guy Ottewill Williamtown 1952. Photo Errol O'Hara
We received the heading photo from Errol O'Hara quite a while ago. At the time I was interested in who the Wing Commander was behind the initials 'PGO' as no known senior RAAF pilot seemed to match up. Recently I downloaded a series of very detailed scans from the State Library of NSW collection (they were 7000+ pixels on the longest side !!) which indicated that the pilot was Peter Guy Ottewill. Some further research has shown that he was an exchange pilot from the RAF. Initially in the period May 1951 - June 1952 he served as Commander of 75 Sqn RAAF click here , they would have been flying Vampires at that stage.
There had been a lot of complaints from 77 Sqn RAAF who were flying Meteor F.8s in combat in Korea, that a lot of the new pilots with no operational experience they were receiving were not trained in combat techniques to an acceptable standard (each Sqn was supposed to bring newly trained pilots from the Flying Schools up to operational standard internally themselves). The RAAF setup 2(F)OTU (the original 2 OTU had been disbanded at the end of WW.II) in early 1952 with Ottewill being the first commander click here . (note that there is a clash of dates here with one reference stating he was with 75 Sqn till June 1952 and the other saying he was Commander of 2(F)OTU from 1 Mar 1952, thus the dates overlap. Maybe he was holding dual commands initially while 2(F)OTU was being organised).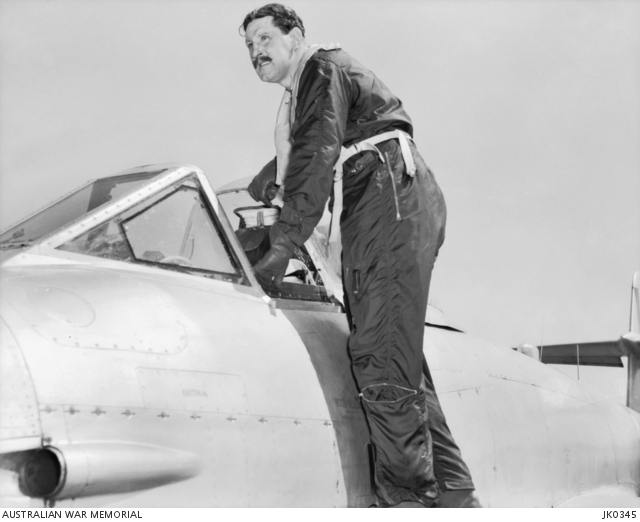 Peter Ottewill in a 77 Sqn Meteor in July 1952. Photo AWM JK0345.
Some online references say that Peter Ottewill served with the RAAF in Korea (one even going as far as saying that he was with 77 Sqn RAAF in 1953, this appears to be in error). He did make a brief visit to 77 Sqn shortly after taking over 2(F)OTU in July 1952 to discuss requirements for the future training of pilots (see AWM images JK0341, 342 and 345) but there is no record of him being with 77 Sqn in 1953, so I believe someone has got confused.
A photo of Peter Ottewill in his office with 2(F)OTU 28 January 1953. Photo SLNSW_FL18958698.
Vampire A79-1 'PGO'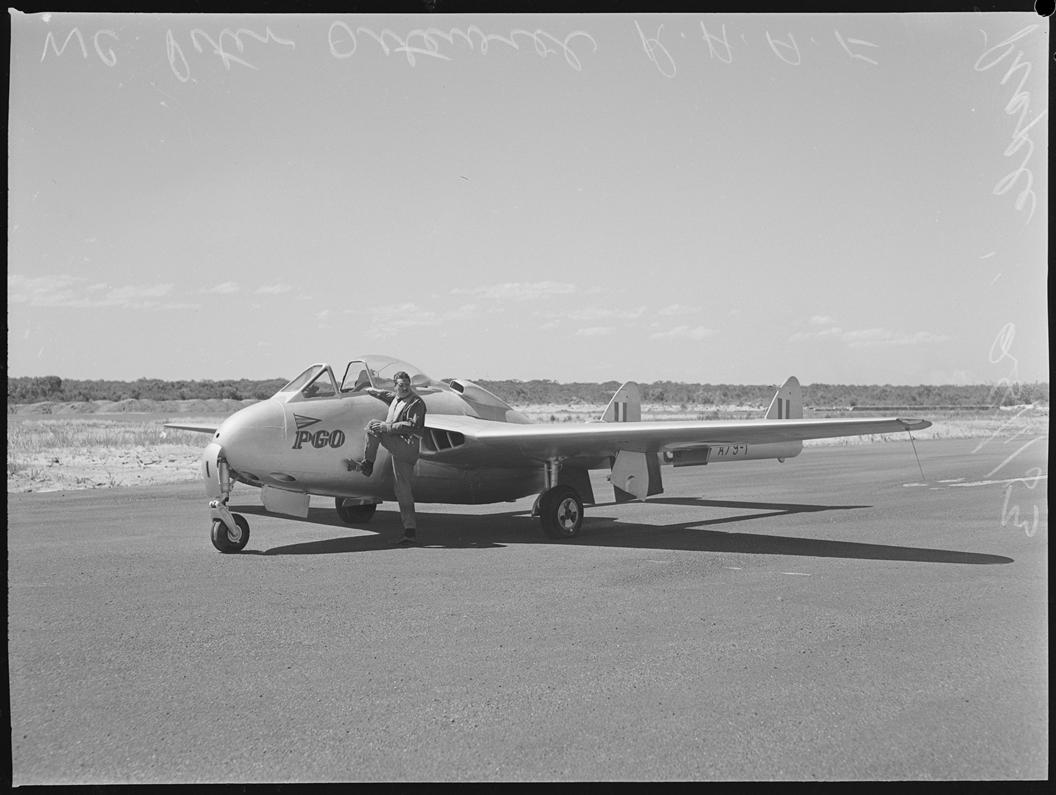 Overall image of A79-1. Photo SLNSW_FL18958696.
Now to look at the markings of A79-1 itself. With the discovery of images SLNSW_FL18958696, 18958698, 18958698, 18958710 and 18958714 which are reproduced here on the State Library of NSW site, we are now in a position to evaluate the colour scheme on A79-1. The closeup of the nose markings below is cut from the large image of FL18958696 above (it helps that the original downloaded image is very large, 7000+ pixels).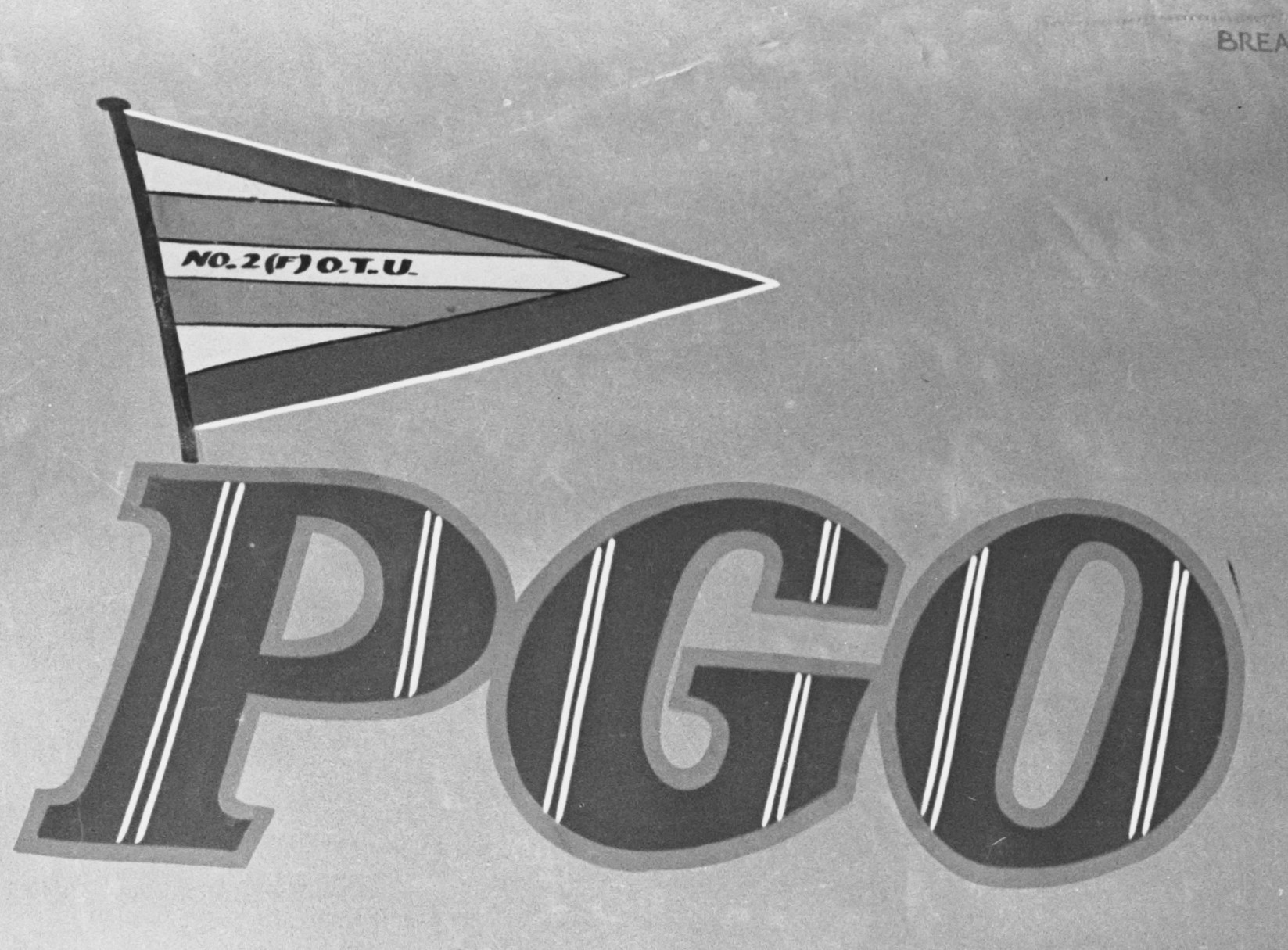 closeup of the nose markings.
The airframe is overall Aluminium doped (standrad RAAF finish at the time) with Black serials and national markings in the standard Red/White/Dark Blue colours. The nose markings appear to be Pennant
Flagpole: Black
'No.2 (F) O.T.U.' Lettering: Black
Outer Pennant Border: Thin Outline of Pale Blue
Inner Pennant Border: Dark Blue with thin Black inner border
Inner Pennant: Pale Blue
Stripes: Red with thin Black borders
'PGO' Lettering:
Red border, Dark Blue letters with red border and Pale Blue stripes.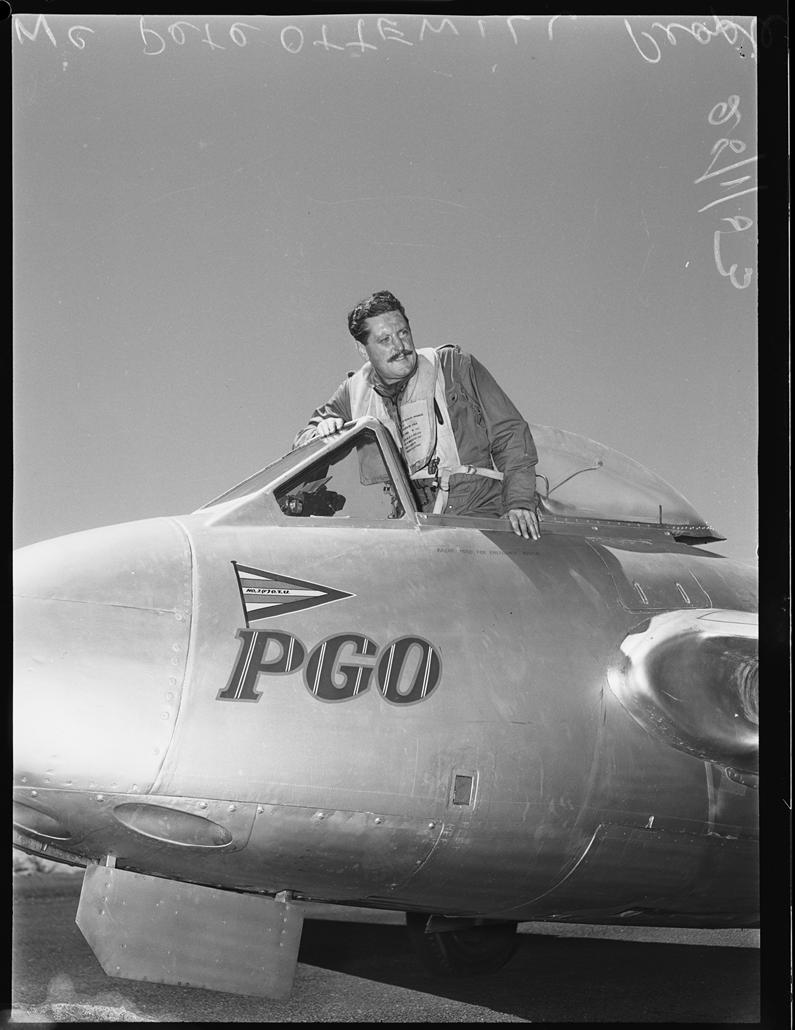 Another image of W/C Ottewill in the cockpit of his personal Vampire A79-1. Photo SLNSW_FL18958699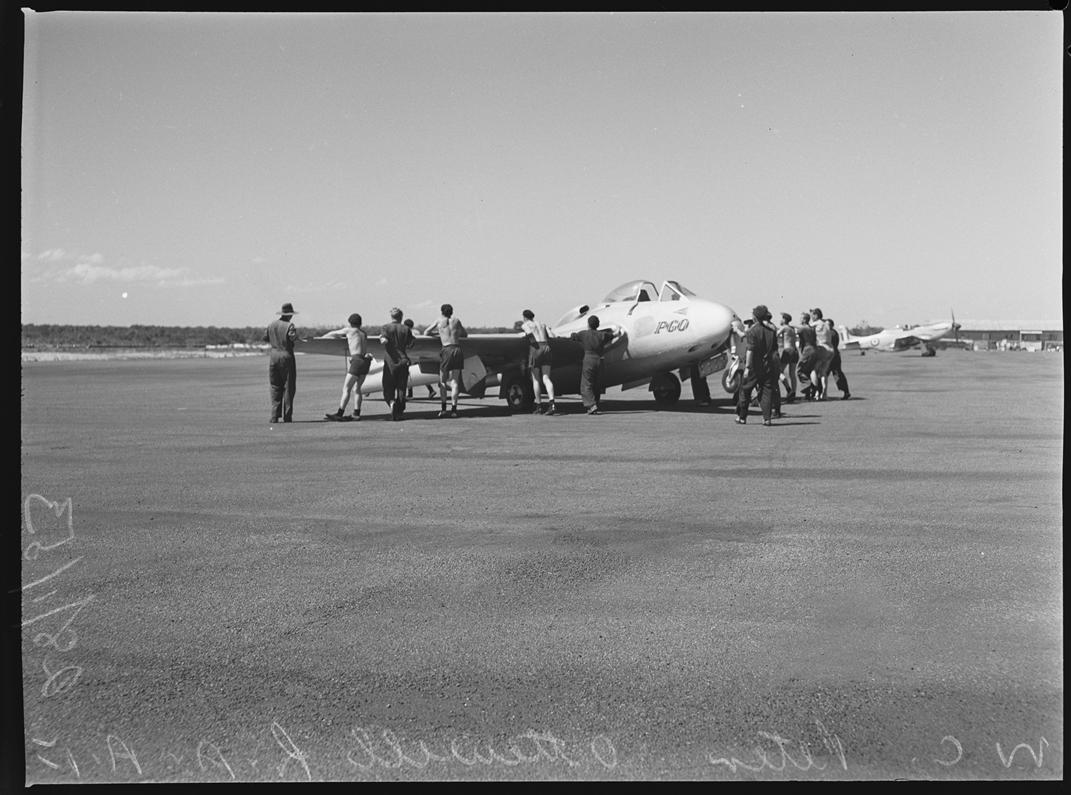 An image showing that the personal markings were on the Starboard side of the nose also. Photo SLNSW_FL18958714
and the rear view (:(: Photo SLNSW_FL18958710
Use the index button to return to the main issue 36/2 index.